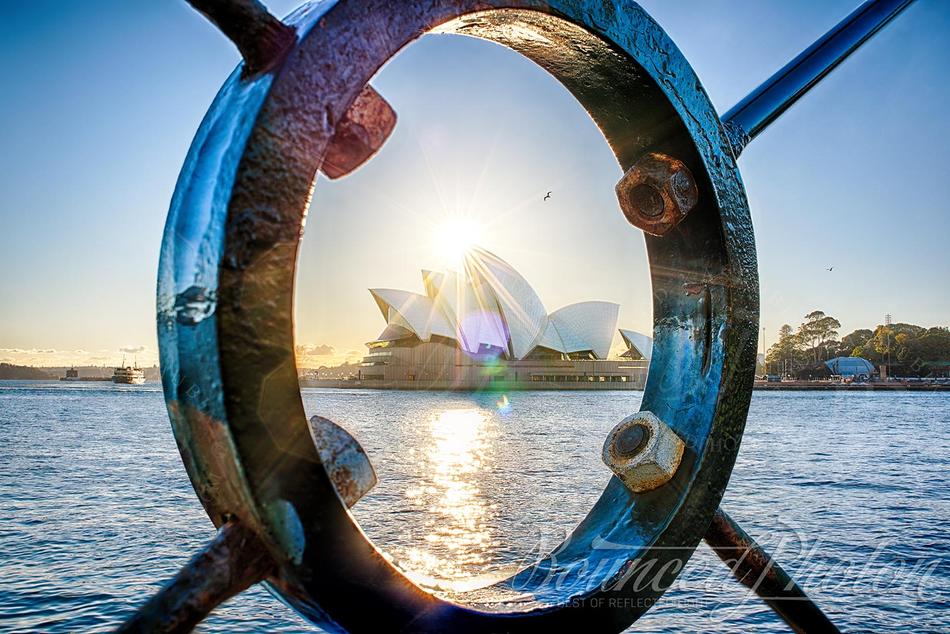 Buy License Buy Print on Almost Anything
One of the Sydney's Secret Photospots, the one and the only missing medallion in the historic Cast Iron Railings at the Circular Quay walk near Dawes Point. I will be honest to admit I wasn't the first one who figured out the composition, the railings are there since the 19th century, we might not even know who was first. I hope, though, I did add my touch to it. You might've seen few similar pictures from various cities around the world. When I started on it myself I did not know the spot and did not have the right gear. So I spent good 6 months preparing to take this picture. First stage was to utilise my lunch jog around the city to find the spot where this kind of a picture could be taken. Running from Circular Quay train station towards the Hickson Road Reserve I carefully kept an eye on the old cast iron fencing. I was almost under the Sydney Harbour Bridge and thought that the missing medallion might've already been fixed up when I finally noticed it. Here it is, I thought, to myself, in the open sight and yet no one is taking a picture. I was so happy about the find I thought that there must be a queue of photographers taking a turn to capture the view. Yet no one was paying any attention to it. It felt like I stumbled across a $100 note with no one around. I carefully put it back into my memory and continued with the jog under the bridge thinking about the time to come back.
Few weeks later I returned on a weekend to see if my camera, lens and tripod would be suitable to take the picture I had in mind. I must've looked like a hunting heron on a lake while trying to set up the tripod with one leg on the sandstone base and other two legs on the ground (that's it, the tripod legs). To my surprise I did manage to take few shots as planned without attracting crowds. It turned out I needed approximately 35mm lens for this. I had a universal 28-300mm travel zoom with me, so I decided to come back later on with a 35mm prime for better quality and sharpness. The only problem was that I did not have a 35mm prime lens. Hence the rest few months were spent in constant internal struggle where I tried to convince myself that I did not need another lens. I succeeded in quite opposite and became a happy owner of used Nikon 35mm f1.4 AI-S. This lens is so beautiful that I easily found (or bought?) a peace with myself shortly after.
During my first take the afternoon light was quite simple, bright and ordinary. So I asked myself why not to get up early and take few pictures during sunrise. To get up at 3 AM on a normal working day and catch a first train to city, why not indeed? I knew the sun was rising behind the Opera House, but I did not know where exactly it would come up. And that's why I spent a good hour after sunrise waiting for it to come up… right behind the tallest sail of the Opera. As I was patiently waiting for sun to emerge the gigantic cruise ship was slowly approaching the Overseas Passenger Terminal. There was no other way for it but to pass right between me and my subject. The thought of missing the opportunity completely crossed my mind for a moment. I would not be keen to do another 3 AM any time soon. Crowds gathered on the top deck waving and smiling for the picture. I made few takes knowing in advance it would be of little use. The ship did not even fit into the frame. It was total opera eclipse. The minute it was drifting along to the terminal felt like an hour. I waited, the Sun luckily waited too and few minutes later I was snapping exposure bracketing sets away focusing on Opera and back on the railing. Focus stacking was a must have for this shot I rightly thought at the time. Believe or not, but sun was pretty quick in its moves and show was over in no time. It fully rose above the Opera House, the wonderful sunstar effect disappeared and magic was no more. I packed up and continued on. It was close to 7 in the morning, but I already felt like half of the day's work was behind me.
Later at home I noticed a nice little touch, resident gull decided to add itself into the photo. Sydney is not complete without its crazy screaming and bullying silver gulls. And ferries. I am glad this work combines both plus few extras. Overall, this is easily one of the most labour and time intensive pictures I've created. It all, however, fits nicely together, even HDR with focus stacking wasn't too hard to do, it just took numerous hours in alignment of 2×3 sets of bracketing shots. I am happy with the result, yet feel this composition has more potential which is why I may come back to explore it more later. The time flies freely thinking about the next picture to make.