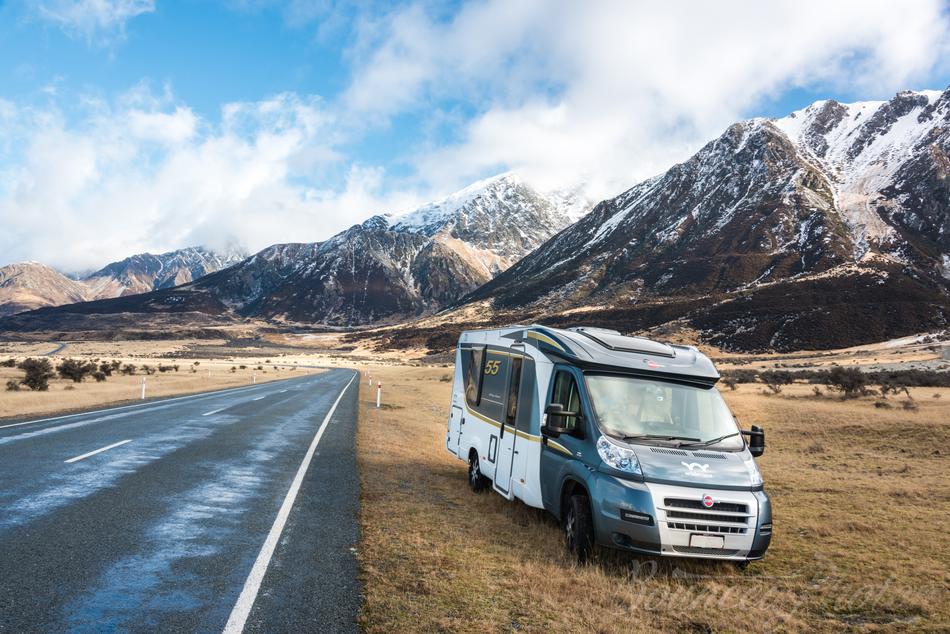 Travelling New Zealand in Winter in a Motorhome
Driving campervan around scenic New Zealand's South Island was the best decision we made. Two weeks in the middle of winter wonderland in a motorhome with picturesque landscapes around and rarely anyone nearby could not have been a better choice! If you read about it online though, half of the comments are to avoid winter and campervan in one sentence and rather stick to accommodation. We were hesitating, we were worried, but you should not. With good planning and a bit of luck campervaning in New Zealand in winter will be the trip of a life time. It was for us.
The best parts
We spent lots of time researching for our holiday in New Zealand and even then helpful and practical information was hard to get by. Now, from our own experience we can share why New Zealand is awesome, especially so in winter:
Low season is great. The airfares are cheap, the caravan parks and other accommodation are mostly empty and you can have all New Zealand beauty to yourself. Ski resorts might be the only exception, but even then, mid-week during non-school holidays there will be just enough people to get you into the pace. At 3pm on Thursday I was left mostly to myself on Coronet Peak enjoying the views and taking stunning photos from the top.
Being in a motorhome and especially in a certified self-contained one means you can stop at the best spots for the night, such as Mount Cook White Horse Hill Campground with the views on the mountains and glaciers or at the Lake Brunner within meters from the water. It costs less than powered site (NZ $20 vs NZ $40, or even free), gets the best views and you are closer to do walks or just enjoy it. No need to rush for check-in or dinner, it is all in your motorhome.
Sandflies are taking a break. You might know that New Zealand is a quite safe place with no poisonous snakes, spiders or drop bears that its neighbour Australia is famous for. There are, however, sandflies, tiny bloodsucking insects that make up for all the missing nasties. The good thing is that in winter there are not many of them around. You will still get a taste of them near the fresh water (or they will).
The roads are empty and the scenery is what it is, with nature showing its best and you are the one to enjoy it. We had some of the most memorable experiences staying at Lake Brunner camping ground, listening to the birds and watching sunset. The only person we have seen was old lady doing a bit of gardening and waving to us while we were driving through the town. Most of houses there are holiday type, sitting empty for 90% of the year and buzzing with activity during summer season. It was hard to imagine such a peaceful place could change from having not a soul around to 300 boats per day roaring through (summer).
Winter means snow. And so it is the best time to head off to one of the ski slopes for few days. Some, like Coronet Peak, have pretty good sealed road which you can drive up in a 2WD motorhome if weather is not too bad. That's what we did on our trip and did not even need to fit the snow chains as road was clear of snow. This saves time and money on bus trips. Just be careful on turns!
It is actually not that cold in winter if you prepare well. We were ready to be freezing in our motorhome when we stayed in a non-powered site near Mount Cook. But even though temperatures dropped to -5C outside it was warm and toasty inside with our built-in gas heater, plus electrical heater running off the motorhome battery for a 1-2 hours at the start, with our extra blanket and sleeping bag just in case. At night we just ran gas heater at half power and had to turn it down at one point as it was getting too warm. To be fair, we could've just used the gas heater with no extras and be fine.
All the amenities are with you. Shower, toilet, washroom and gas stove are all within reach, no need to search for a closest cafe to get lunch or call up and see if there is a room available at the nearest motel. It saves a great amount of hassle. The two bits I liked most is not having to rush back to accommodation after watching a sunset, just a short walk back to the camper and you are at home, cooking dinner and getting a bottle of local Pinot Noir from the fridge. Stopping by at the beach for lunch and having toasted sandwich with hot tea when nearest cafe is 50km away is priceless as well. Leaving before sunrise to drive up to Milford Sound? No problems, there is no keys to return, no suitcases to pack, no checkout and no bills to pay.
Things to be aware of
Now, to the points you would want to know before you go.
Campervans are heavier, longer and bigger vehicles. It is easier to get stuck, hit something when going backwards, harder to keep lane and make turns. Driving backwards always require a second person watching outside. We did run on a roundabout, nearly hit a tree and parked on 3 spots simultaneously. Prepare to be patient and extra careful.
Good idea is to check if your license allows you to drive in New Zealand and how rules are different from your country. NZ Transport Agency website is a good start.
There are lots of different rental companies with varying quality of campers and pricing. Choose wisely, it is your home for the trip. Get the best one and you'll enjoy it more. We were really happy with ours and it had everything we needed.
While maximum speed on New Zealand roads is 100 kmh, bigger campervans are considered heavy vehicles and have 90 kmh speed limit. Allow extra time in your travel plans when driving.
Some smaller tour companies do close during low season. So call before you go and make sure you have alternative options. We did get caught out by a Kiwi tour not going ahead in a small town of Okarito, but we found a kiwi conservation centre nearby and were able to get up close to these awesome birds there.
Useful tips
Avoid high season and school holidays. Less crowds, more space and you will see New Zealand most beautiful.
Take the snow chains option. It might be the only way to drive if weather gets rough in alpine areas. This shouldn't be the optional feature in winter really. There is no other way around it, but to have snow chains with you if you drive in New Zealand in winter, especially the South Island. While you might not need to fit them, on some roads it is illegal to drive without having snow chains in a trunk.
Get a good caravan and keep warm inside! Do a bit of a research which company is a best bang for buck and get a nicest camper that has gas or diesel heater built-in, extra blankets, pluggable electrical heater which you can use in powered campsites, window blinds to save the warmth and double glazed windows to top it up. We had all of these with our motorhome plus built-in electrical heater that took 1-2 hours to warm up, but was working really well then. It was probably more comfortable and warm than our apartment back in Australia which has no heating at all. Maui is probably one of the most popular caravans we saw on the roads, but by the time we were ready to book, believe it or not, there were none available. So it worth planning few months in advance even in a low season.
Don't forget to check what is covered by the rental company insurance and how much is excess. Our option had $950 excess and covered all the damage except for extreme cases like when people dance on the roof of their motorhome. One of the little explained issues is that New Zealand roads have a lot of gravel. Hence windscreen damage is pretty common and costs to fix it can range from $75 for a little chip to $750 and more for complete replacement. Most of the times this will not be covered, unless you take the full coverage option which will be costing as much. In our case we did pay $75 for the windscreen damage and were thankful it did not get more serious as the rocks were flying everywhere.
Don't leave your car unattended if Keas are around. Keas are the most intelligent and active parrots. They are the monkeys of New Zealand and are well-equipped to disassemble anything in the shortest amount of time possible. If you are leaving your car to go for a walk and Keas are around you could be sure that they will attempt to chew though the rubber seals and get inside through the sunroof. Considering they can see well in the dark you are not safe at night as well. Luckily they are just in few spots on South Island, we've seen them in Arthur's Pass and Milford Sound only.
Know what you going to do if you get stuck, campervan breaks or you would need to change the tyre. Ask your company rep. Our motorhome came with AA Roadservice arrangements that have a network of local mechanics to help which came really handy when we got stuck in mud near Lake Pukaki. It was NZ $140 extra to pay as it was somewhat our fault, but at least we did not lose much time. Another advantage being in a motorhome was that even in such situation you can have your dinner comfortably and enjoy the scenery while you wait for help. Being in a car with limited supplies would be a different story.
Be prepared to drive on icy roads. Even if there was no major snowfall there will be icy patches on shady sections of the roads. Some are called black ice and are hard to see, it will be looking just like wet road. Avoid breaking suddenly and drive slowly. Check road conditions for mountain areas before you drive via NZ Transport Agency website or via 24/7 toll free number 0800 444 449.
Get travel insurance. While New Zealand provides free public medical assistance for people unexpectedly requiring that as soon as you leave New Zealand shores you will be on your own.
Some grocery stores provide a considerable discount on fuel if you shop there. We got a nice surprise getting 40c off every litre (around 30% off) when we shopped $200 of groceries at one of the New World stores at Christchurch.
At the end of the trip you might have an option of re-filling the gas bottle instead of swapping it. Find service station that does that. That could be more convenient and budget friendly. We also liked to find out that there still was a half of gas left after our 2 week trip and we could have stayed in unpowered camp areas many more times. Get a receipt after re-fill as well in case your rental company would want to see evidence of it.
Take a dashboard camera with you. As a minimum you will have videos of great New Zealand scenery while you drive and Keas chewing through your window seals when you are hiking.
Gear to take
Thick rubber gloves, a sponge and dishwashing liquid will come handy. Unless you are prepared to do the dishes in ice cold waters on camping grounds.
Coins! Get lots of 50c, $1 and $2 NZ coins to use for showers, laundry and dryer where required. Get a pack of $5 and $10 NZ notes as well to pay for campsites afterhours. Most of the other places accept credit cards, so you should be fine without a bag of cash.
Headlamp and a torch. The day is pretty short in winter, you would use torches a lot. Headlamp allows you to have your hands free which is really useful on walks.
Warm clothing and lightweight sleeping bag if you have space in your luggage for the latter. While most motorhomes can provide an extra blanket and a heater, it will come handy in colder mountain spots or when heater breaks. We did use our sleeping bag on multiple chilly-morning-occasions.
While Aussies always take a pair of thongs everywhere, swapping these for waterproof hiking boots for New Zealand's winter will be a smart choice. Best of the spots to see on South Island require a great deal of walking. Mount Cook walk through Hooker Valley is about 3hr return, for example. And while you can pray for good weather and dry track it is not always the case. Better be prepared.
Rain gear. Weather in New Zealand can change from sun to rain few times a day. Get a waterproof jacket and pants so you can enjoy the most of it. One of the best spots to see, Milford Sound, is rarely sunny, but equally beautiful in any weather. The walk to Fox Glacier is 1hr return and while we had our heli-hike cancelled due to bad weather we got a pretty nice walk under a little drizzle. Skipping out on glacier views would have been a big miss.
With so many lakes in New Zealand we were really thinking about having fishing gear and kayak with us. May be for the next time?
What we liked about our motorhome and you should too
3 heating options: gas heater, electrical heater and portable electrical fan heater plus extra blankets, double insulated windows and bedroom area that can be curtained off from the kitchen and seating area made it comfortably warm at night.
An isle bed that is always made up and allows easy access to and from for 2 people. No need to make it up every day or jump over each other to get off.
Good quality triple gas cooking top, spacy fridge, and a variety of kitchen utensils made it easy to cook and enjoy local produce. Big gas bottle and a little one as a spare made it through 2 weeks with more that half of gas left.
Swivel chairs for driver and passenger allow to use space when not driving. Overall, even though it was 2-berth motorhome we had 5 sitting spaces at the front.
Storage, lots of it, under the seats, shelves above, it was really handy and we could have fit 2 times more if we wanted (like bikes, picnic table, portable kayak, diving gear, snowboard and skis).
Warm lighting with movable spot lights made it cosy and comfortable inside comparing to the hospital looking cool lighting some other motorhomes have.
Automatic transmission, cruise control, and rear parking camera made it easy to move around.
While there are few good companies out there to hire from we've got great hospitality and service from Wilderness Motorhomes. Helping to find a better option for us after 5pm on Saturday (because we somehow booked the wrong one) and then checking for damage together under the rain in the dark is good old fashion service that is rarely included nowadays.
Find motorhome rental in New Zealand

Flights to New Zealand
Still looking for flights? We used multiple websites to find the cheapest and most convenient one. A small Australian flight search engine 'I Want That Flight" with a simple user interface always provides top flight options to New Zealand and often cheaper than elsewhere. Plus it feels good to support Aussie-owned and made.
Overall we had a great holiday and hope you will too!
---
---
You might also like
---