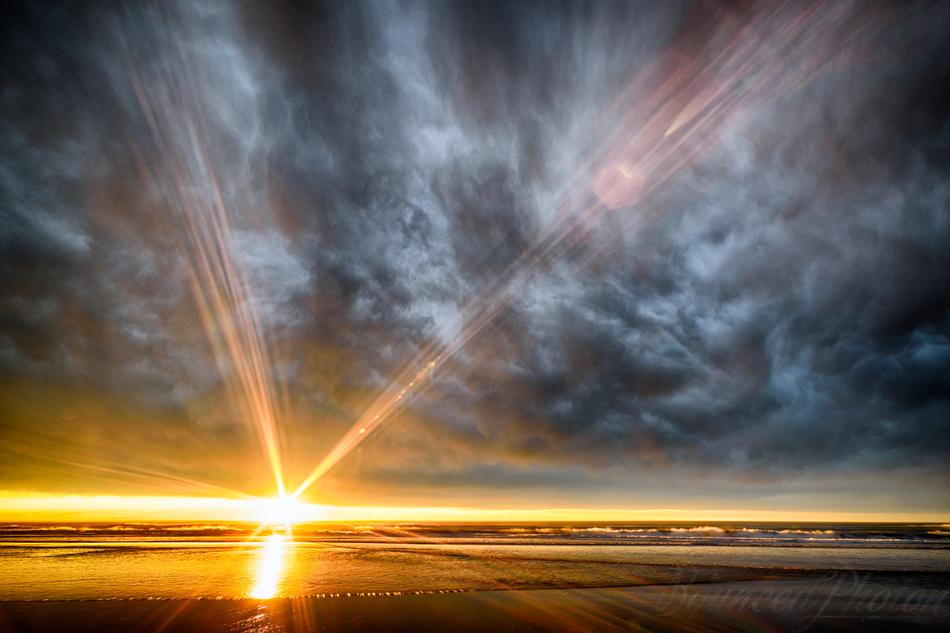 One of the most stunning sunrises we have seen in New Zealand happened on the last day of our trip on a beautiful beach north of Christchurch. Dramatic clouds left only a tiny space for sun to shine through and it was using that moment fully with rich orange light. It is hard to bring the full experience of being there with a photograph and I can only hope it is giving similar impression and awe.
There was also a seal that came up on a sunlit beach just after this shot. I wouldn't even notice it if I did not stop to talk to a local guy appreciating the moment. He pointed me to the seal and said he was also a local fellow who comes up quite often. While I was changing a lens few horses raced by, needless to say in a beautiful light. Though riders were careful and slowed down near the seal it did not appreciate all the fuss and went back for a swim just when I finally changed my lens for a zoom. Here is photographer's luck, you cannot have everything. Well, maybe we meet next time.
As for the horses, there is a training school nearby, apparently, and they are quite an often sight there.
Lens flare on the picture is a real work of her majesty the Sun. Interestingly enough, I was avoiding using my Samyang lens with f22 aperture the whole trip as lens is said to be best at f11. On the last day I decided to give it a try and, I must say, I quite like the effect. I think it really shows how shiny and bright it was. What a place and what a moment!
---
---
You might also like
---