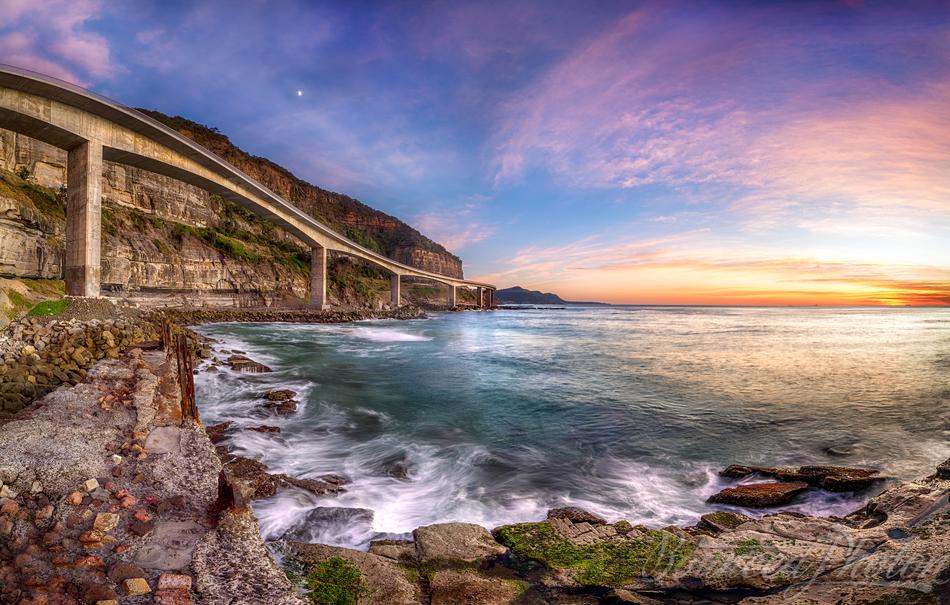 Buy Digital License Buy Amazing Metal Print
After celebrating 10 years in 2015 Sea Cliff Bridge still stands as an engineering highlight along the scenic Grand Pacific Drive from Sydney to Wollongong. Being one of the seven off-shore parallel to coast bridges there are some amazing views to be seen from it. As usual, however, the best photo spots are not easy to get to. Climbing down very steep and narrow track to the bottom of the bridge before sunrise I could already feel the heat of day. Unusual for spring the temperature was in high 30C that day. The Day Light Savings started and clocks jumped forward, hence most of Sydney-siders were taking it easy and waking up an hour later than usual. Those trying to get the best of the 23-hour-day, however, were gifted with beautiful sunrise at the ocean shores.
This is a panorama of 4 shots with quality turned out to be very high, good job there from Nikon D810. Available at crazy resolution of 8016 x 5113 pixels. Check out preview at the shop to see a big version of it (click on the small thumbnail and then Expand icon at the top left).
---
---
You might also like
---