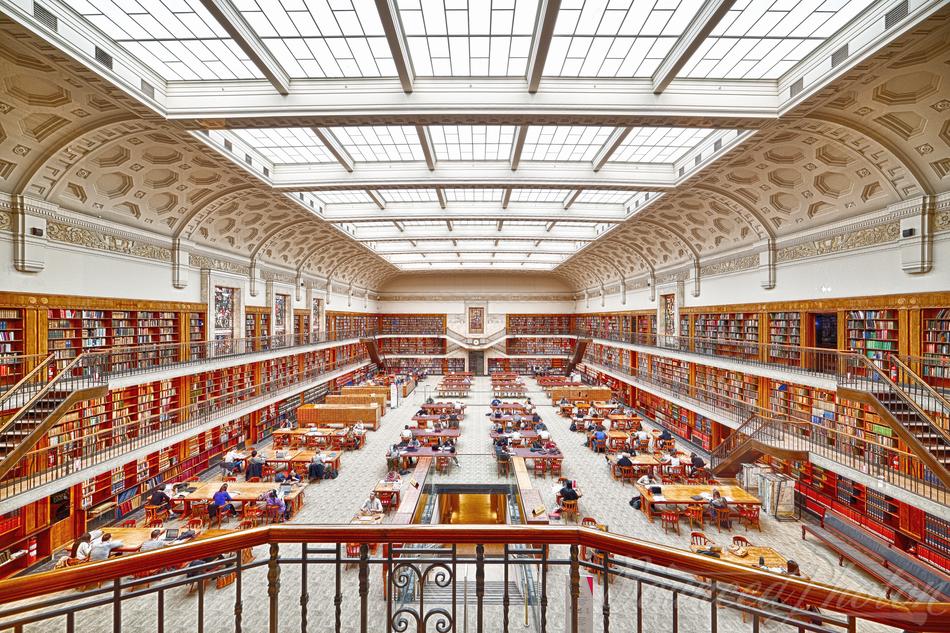 Mitchell Library Reading Room
Buy License Buy as.. a notebook, why not
Few years back I needed to get a copy of a magazine that printed with one of my works. The only place I can get it at that time was State Library of New South Wales in Sydney. I knew the place, it is a modern glass building which you can see right through when you are walking on the street. What I did not know is that it had few wings. And one of them, where my magazine would be, is The Mitchell Wing. I knew that building too, it is next to the main library, but it looks so different that I never thought it is also a part of the complex. Grandiosely looking with sandstone columns I though it is a museum of sorts as it somewhat similar to the Art Gallery of New South Wales. I never paid enough attention to find out what it was exactly. When I finally entered I was stunned by the interior. Enormous room with book shelves going up to the glass roof and so quiet you can hear a pin drop.
For years I would be thinking about coming back there one day with a good camera, a tripod, wide lens and taking few bracketing exposures to combine them into a HDR. I finally got a chance during my recent visit and this is the picture. I had the tripod with me, but I could not be brave (or crazy) enough to rock up on the stairs there and start taking pictures in the middle of this magic. Hence, this photo is taken handheld through a glass window from an outside corridor with all the magic undisturbed. I think it came out very good quality wise.
Funny story about this image is that I published it on my Flickr and totally forgot about. Few months later I am looking through Sydney events and see this great promo for the upcoming Art and About festival. Guess which picture featured right at the start of the promo video? This very right one taken off Flickr page with watermark cut out. I did not know at first whether to celebrate it or to be upset as I actually missed submission deadline to the photography competition. Was good to know guys decided to take my image anyway, not exactly following the usage rights restrictions, but that got sorted out later on.
---
---
You might also like
---