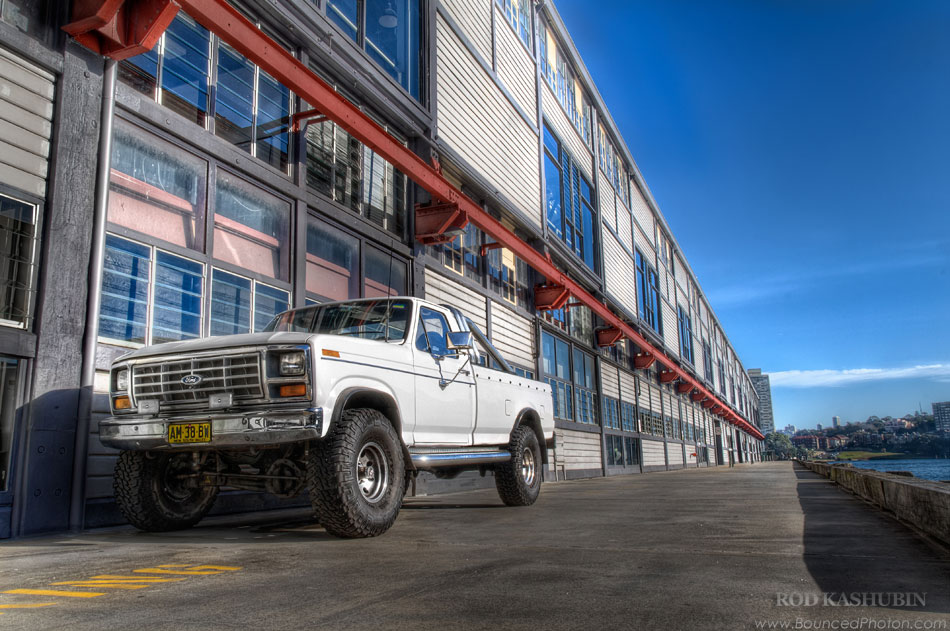 Walking along the beautiful bay shore with people enjoying Friday`s morning sun it sounds unbelievable, but about 100 years ago this place was the center of bubonic plague outbreak. Filled with rubbish and infested with rats I doubt it was a popular weekend spot. However, as time passed and Sydney changed, Walsh Bay became busy cargo terminal with tones of wool shipped around the world every year. Many of the port buildings are still there reminding about its past. Nowadays, Walsh Bay is a modern amusement complex with bars, restaurants, shops and a theatre located (or better to say hidden) in the very centre of Sydney.
Ford truck on the picture was neatly parked at the back of a restaurant. By my rough guess, it is a Ford F-150 (or 250, 350?) pickup truck built in USA around 1985 (let me know if you know for sure). It is known as the best-selling truck in US for 30 years and is now a popular classic vehicle for restoration projects among the enthusiasts.
The photo is no exception as most of the other ones I posted. It is a HDR image blended from 3 shots taken with different shutter speeds from a tripod. It was then tone-mapped into a nice and mostly grey tiff file. The major work after that was on adjusting the contrast, making the white white and other colors as bright as they should be. May be a little brighter for some, but I think it came out pretty naturally looking. Or am I just used to it now?
---
---
You might also like
---