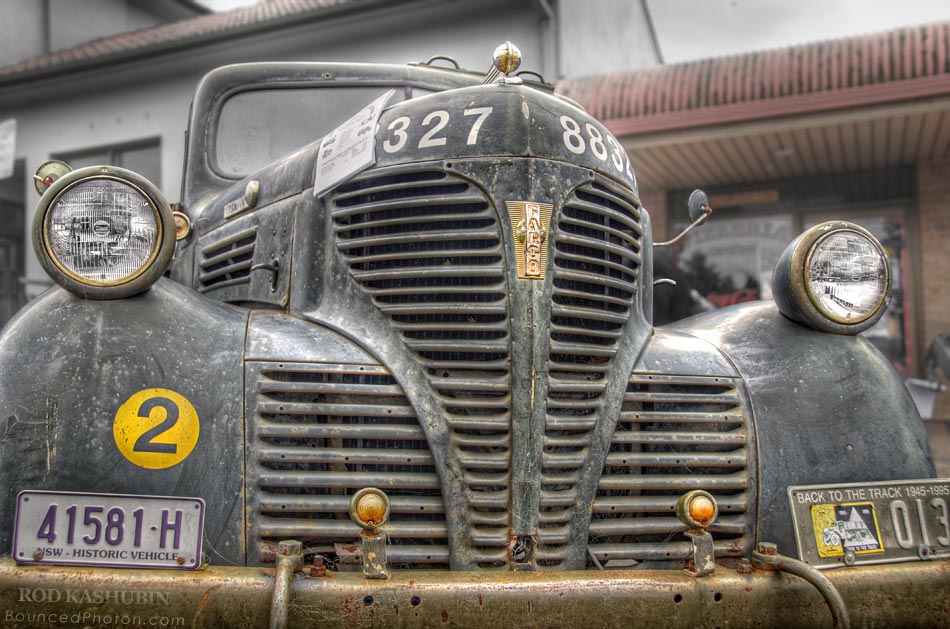 1942 Fargo one ton truck by Chrysler. Picture taken at the Thirlmere Festival of Steam 2012. Not exactly a steam device itself, truck, however, was a prominent display item at this Australian country event. Created at first in 1913 by Fargo Motor Car Company in Chicago, Fargo truck business changed few owners over the last century. Yet almost a hundred years later it is still produced by one manufacturer, in Turkey. This particular one was built by Chrysler in Canada for the Australian Army and shipped as rolling chassis and cab to the windscreen. All behind the windscreen, including doors and the rest was built in Australia by T.J.Richards of Adelaide. It is likely a civilian model (not 4×4) powered by 6-cylinder 80 bhp motor with 3-speed transmission. There were only 17 built and this is the only one known to exist at this day.
The image is a HDR composite from 3 bracketed photographs (-2, 0, +2 EV) taken handheld. Quite a good resulting sharpness for crouch style photography. After the event NEF format files were reviewed and edited to remove optical distortion, lens softness, purple fringing and exported to 16-bit TIFs. Combining those 3 TIFs into a single HDR file that what gives us 3-in-1 picture with a lots of details. As our monitors are not yet ready to display that sort of depth we create a slice of this big-pie-of-a-picture by tonemapping. We pick the best (the one with a cherry) and save it as 16-bit TIF for next level of processing. Next step is the most creative one. That where I choose to expose miniature surface details and add even more depth to the main object with the help of tonal contrast, desaturation, selective bokeh and vignetting. I am sure that even Mr. Chrysler himself would've been proud to see this picture.
Big thanks to Tony for getting in touch with the owner and giving me extra info on the truck!
---
---
You might also like
---