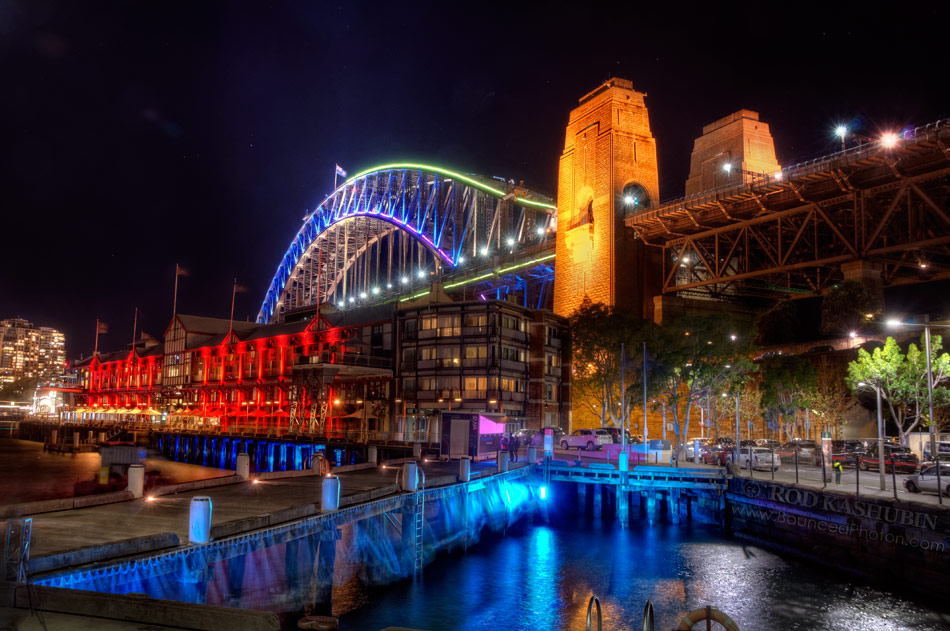 Creativity of people never stops to amaze me. Vivid Sydney – one of the most colourful and spectacular events has become Sydney's major winter festival over the past few years. It features incredible lighting installations onto iconic buildings around the CBD, Aquatique laser-water show at Darling Harbour and many mesmerizing performances throughout the City streets.
Having witnessed it from the very beginning in 2009 I can say that the show becomes better and better each year. And price stays the same – free. It is just unbelievable what could be done with light, music and creative imagination! You have to see it for yourself.
Back in 2009 I was wondering why do they project still flat images on the Opera House. Wouldn't it be better to create three-dimensional ones onto the complex shape of Utzon's iconic sails? It seems I was not the only one thinking about that. Within 5 years Vivid Sydney has transformed dramatically and grabbed the world's attention. Huge tourist crowds wondering in any kind of weather in winter chill are a testament to that. Well, the chill is of a mild Australian type and weather is mostly good, the crowds are nevertheless there.
The show does not only trigger visual and audial senses but also allows everybody to create a piece of art themselves. With moving 3D projections changing every moment the picture you take might very well be unique. That's the beauty of the long exposure.
Now every person with a camera becomes a part of the event, pushing boundaries of the art creation far beyond simple projection. I think this is the most considerable outcome of the Vivid Sydney, it allows everybody to be part of the performance. Artistic crowdsourcing on a scale of a city.
Vivid Sydney visitor tips:
Light performances begin at 6pm each evening
To avoid huge crowds it is best to go during the week
Be prepared to walk a lot, 2-3 hours if you like to see most of the installations
Get a good light tripod if you are planning to take quality pictures without drowning your camera or sticking to handrails
Consider taking a public ferry for a spin around the harbour, it is one of the best times ever
When: May – June, 3 weeks, every year
Where: Sydney, Australia
Cost: The light festival is free. Some talks, workshops and music performances may require a ticket purchase.
More: www.vividsydney.com
---
---
You might also like
---