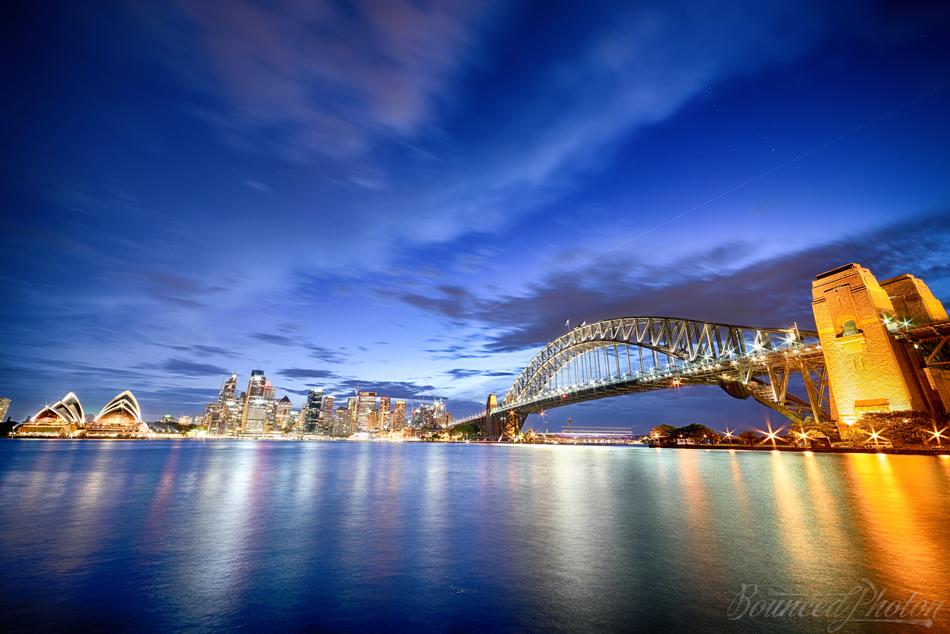 Buy License Buy Stunning Metal Print
Kirribilli foreshore just across the Sydney Harbour on the northern side is one of the best photo spots to photograph Sydney icons: Sydney Opera House, Sydney CBD and Sydney Harbour Bridge. If you are lucky enough to have wide zoom lens like my 14mm on a full frame Nikon D810 then you will be able to fit everything into single frame. If you do not, you still have direct line of sight on all three and can frame them long or wide to your photographic pleasure. Few interesting facts about this shot:
Taken during blue hour, around 40 minutes after sunset and just before it got too dark
Late storm was forecast for Sydney that day and there was rain clearing just before sunset, the expected colour in the sky never happened, though, which with shot I am not too disappointed
The light trace above the Sydney Harbour Bridge is a plane trace that took off from Sydney Airport down south, I removed it from the image available for licensing and print as I like it more this way
Uneven water at the bottom of the frame is from seagulls taking an occasional evening dip
Looking at the picture at the full size you would see hardly visible moth-like traces above the bridge which to my surprise were hundreds of seagulls soaring on warm air
I normally geotag my images so anyone can get a point where it was taken (Firefox has great FxIF extension to browse metadata for that purpose). Here is, however, an easier link to the location on Google Maps.
---
---
You might also like
---